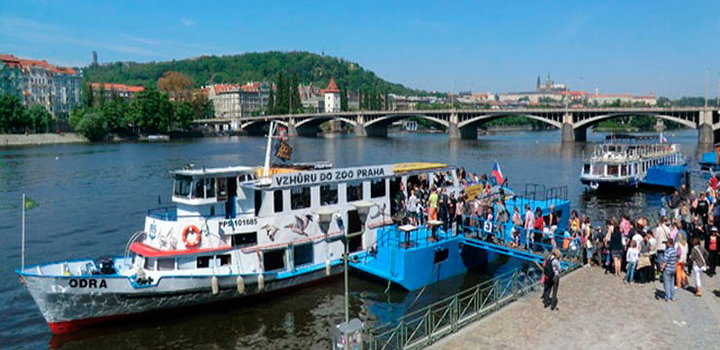 The Prague Steamboat company is just about to enter its 148th season and, as every year, we have revised and updated our services from the previous season to make your experience with us even better.
The first cruise from Rašínovo nábřeží to the zoo will take place on Saturday, 6 April and then every weekend until the end of the month.
From 1 May until the end of August zoo cruises will run daily and then from 1 September back to weekends only. Cruise times are at 9:00, 12:00 and 15:30. As last year we are offering a special return fare and family tickets. You can read more here.
Cruise from Nemocnice Na Františku to the Zoo
From Nemocnice Na Františku the cruises begin on 1st of May each weekend and from 1 July then every day at 9:00, 10:00 and 17:00.
This year for the first time you can get to Nemocnice Na Františku directly from Kampa Island by boat. It will take you to the landing place by Čechův Bridge where the boat taking you to the zoo will wait. Read more about the cruise here.
One-hour River Cruise 
The one-hour cruises from Rašínovo nábřeží begin on 6 April and the boats sail every hour from 10:00. Have a look at the timetable on this page.
Boat Trip to Slapy
The regular cruise to the Slapy dam starts on 1 May. Throughout May and June the cruise will run on Saturdays and in July on both Saturdays and Sunday. Throughout July you will be able to travel to Slapy on the historical steamboat Vyšehrad. Read more about the cruise here.
Boat Trip to Mělník
We will also be running two cruises to Melnik again this year. The first whole day trip to the confluence of the Vltava and Labe will take place on 28 July and then a month later, on 25 August. Have a look at the timetable for more information.
Prague Lunch Cruise
Regular cruises during which you can indulge yourselves with a delicious lunch takes place daily between 15 March and 3 November, and, from 4 November till 14 November, on Fridays, Saturdays and Sundays. The lunch cruises begin by Čechův Bridge. Have a look at the Prague lunch cruise page.
Prague Dinner Cruise
Prague dinner cruise is on every day from 19:00. till 20:00. As the lunch cruise the dinner cruise starts by Čechův Bridge. Have a look at the dinner cruise page for detail info.
A la Carte Dinner Cruise - Fine Dining 
The exclusive A la Carte dinner cruise on the most modern boat in Prague, the Lužnice, takes place every day from 15 March till 3 November. It starts at 20:00. by Čechův Bridge. See more information on this page.