Dinner on a boat is a great choice for a romantic dinner for two, or a fun evening with family or friends, or even for a business meeting.
You can look forward to a charming atmosphere as can only be experienced in the middle of Prague by night and its illuminated monuments. Here you will also find the stylish surroundings of the boat deck and total privacy in the middle of the water.
Select your meal from a wide range of warm and cold international cuisine, which we serve in the form of a buffet. Nor will you be disappointed by the range of delicious drinks, fine wines and non-alcoholic beverages. Of course there are also plenty of delectable desserts to choose from too.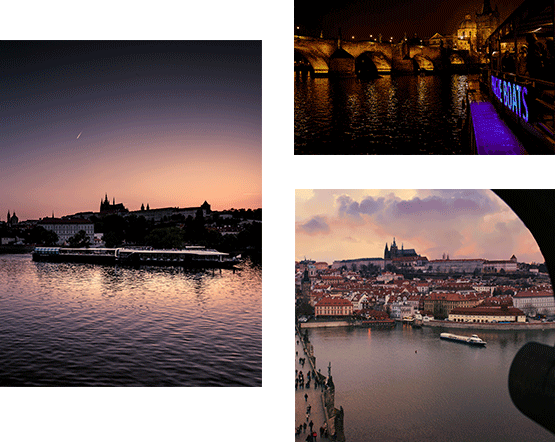 Dinner cruise
 

39 € (adults) | 26 € (children)
---
Dinner cruise
+ glass boat guaranteed

50 € (adults) | 26 € (children)
---
Dinner cruise
+ glass boat guaranteed + window seat guaranteed

59 € (adults) | 39 € (children)
We make a reservation for minimum 2 persons per table. One person must buy at least two tickets.
Unless you buy the cruise with the option "glass boat guaranteed" we cannot guarantee any specific boat. Due to the irregular traffic on the Vltava River and the limited capacity of the water locks as well as their occasional shutdown we cannot guarantee that the cruise will be sailed as offered (the duration of the cruise will not be affected).
5.11.2018 - 21.3.2019*
19.00
daily
*except 24. 12. and 31. 12.
The boat departs from the dock at Čech Bridge and first cruises upstream on the Vltava beneath the Letná hills. From there you will see the Prague Metronome and a moment later the illuminated Prague Castle. The boat will pass beneath the Mánes and Charles Bridges and then cruise to the Smíchov locks.
Along the way you will see Kampa and the Sovovy mlýny (Sova's Mills), and after passing through the locks the boat will head along the banks of Kampa to the Smíchov lock chamber. After passing the through the locks the boat cruises in the direction of Vyšehrad and then a bit further, where it then turns for the journey back.
The last turn is at Štvanice Island, and then back to the dock at Čech Bridge.