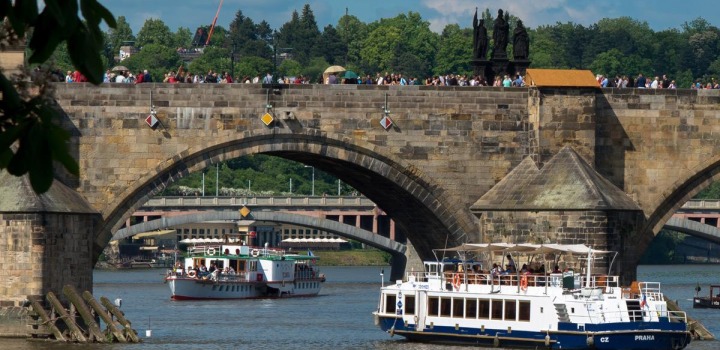 Today is the first day of school and, for most of us, a return to our regular lives after the summer holidays. But you can still extend the summer a little bit longer by going on one of our boat cruises. Take a look at our September cruises and you will no doubt find one that's right for you.
Get in a summer mood with your long boat cruises, like the cruise to Slapy, which departs on Saturday, 3 September and Sunday, 4 September, as well as next Saturday, 10 September. These last three cruises of the season will be on the historic paddle steamer the Vltava. The steamer departs regularly at 8:30 a.m. from the Rašín Embankment and returns there at 6:00 p.m.
Throughout September you can depart daily on our hour-long sightseeing cruises of Prague, which depart every hour between 11:00 a.m. and 6:00 p.m. If you prefer a longer cruise, we recommend the grand cruise of Prague, which departs daily at 3:30 p.m. and at 5:00 p.m.
Until 2 October we will be operating our popular cruises to the Prague zoo every weekend, departing from the Rašín Embankment at 9:00 a.m., 12:00 p.m. and 3:30 p.m. or from Čech Bridge at 9:20 a.m., 12:20 p.m. or 3:50 p.m.
We have of course also prepared for you cruises with food, which depart delay from Čech Bridge. Cruises with lunch depart at 12:00 p.m., with dinner at 7:00 p.m. and Sweet Prague at 8:00 p.m. 
Our eco boats cruise the Devil's Channel daily until 30 October. They depart from Čech Bridge at 10:15 a.m., 12:15 p.m., 2:15 p.m., 4:15 p.m., 6:30 p.m. and 8:30 p.m.