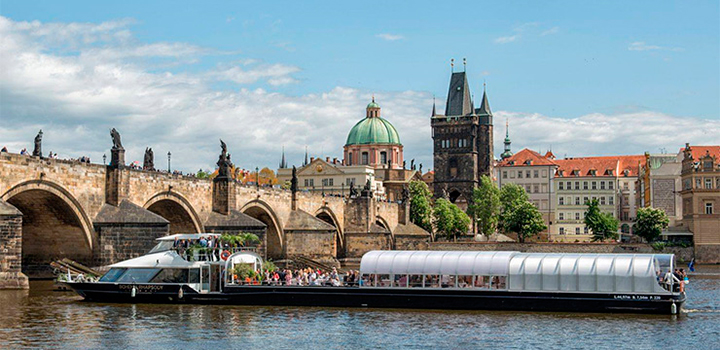 Today at 11 a.m. our company ceremonially presented our newest and most advanced sightseeing cruiser, the Bohemia Rhapsody. Together with the Grand Bohemia, which was introduced last year, it becomes part of our fleet and will be used for sightseeing cruises and for company or private events.
The Bohemia Rhapsody is even larger and more modern than the highly successful Grand Bohemia. Its single deck is equipped with a retractable glass roof and has a capacity of 220 passengers.
The Bohemia Rhapsody is a wonderful gift that we have given to ourselves and to our customers on the occasion of the 150th anniversary of Prague steam navigation.
Its patrons are:
Adriana Krnáčová – Mayor of the Capital City of Prague
Dr. Arndt Freiherr Freytag von Loringhoven – German Ambassador to the Czech Republic
Rudolf Fischer – President of the Czech-German Chamber of Commerce
Oldřich Lomecký – Mayor of Prague 1 
We hope that you enjoy the Bohemia Rhapsody!