There is no more beautiful dinner in Prague than the crystal dinner on board our glass boat.
The cruises are always operated on one of our super-modern, luxurious boats: Grand Bohemia and Bohemia Rhapsody, which are unique thanks to their glass retractable roofs.
You can look forward to a unique and unforgettable experience, undisturbed views of Prague's monuments through the glass roof or directly from the open deck, and of course, a stylish buffet dinner, where you can choose according to your taste.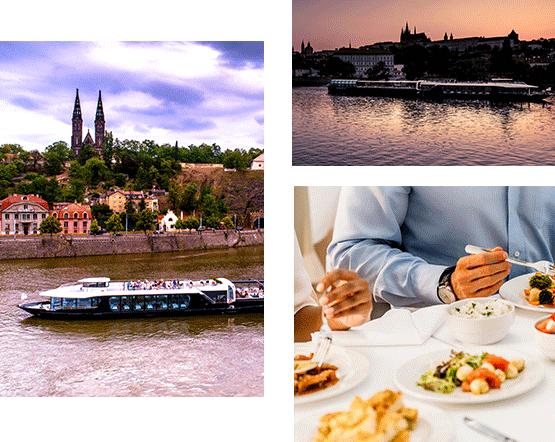 Crystal Dinner:
59 € (adults) 39 € (children)
Due to the irregular traffic on the Vltava River and the limited capacity of the water locks, we can not guarantee that the cruise will be sailed the whole offered length.
At least two persons per table required for reservation. We guarantee a private table for at least four persons.
The boat departs from the dock at Čech Bridge and first cruises upstream on the Vltava beneath the Letná hills. From there you will see the Prague Metronome and a moment later the illuminated Prague Castle. The boat will pass beneath the Mánes and Charles Bridges and then cruise to the Smíchov locks.
Along the way you will see Kampa and the Sovovy mlýny (Sova's Mills), and after passing through the locks the boat will head along the banks of Kampa to the Smíchov lock chamber. After passing the through the locks the boat cruises in the direction of Vyšehrad and then a bit further, where it then turns for the journey back.
The last turn is at Štvanice Island, and then back to the dock at Čech Bridge.
CRUISE map